National Festival of Experimental Theatre
Concocted by theCentre of Dramatic and Scenic Arts of Medenine, in collaboration with the Regional Delegation of the culture, the 17th edition of the National Festival of Experimental Theatre of Médenine will take place from the 22nd to 28thApril, 2013.

This event aims to promote cultural exchange between the people of both local and foreign theater, and it is also an opportunity for art lovers 4th discover new plays.

Indeed, this year will be marked by the presentation of several Tunisian theater productions, including "Hala" Imed Jomaa, produced by the National Theatre of Tunisia, "The Lesson" Ghazi Zoghbani; "The flower of salt" Ali Yahyaoui produced by the Centre of dramatic Arts of Gafsa; "Monstranum's" from Ezzedine Ghanoun and "The people willcome to you... one day", produced by "Al-Watan prod" Beni Khedech (Medenine).

In addition, the edition will include a street performance entitled "It's there", which will be presented by the French company «Northwest Theatre " (Nord-Ouest Théâtre ) and an exhibition of photographs and posters of different sessions of National Festival of Experimental Theatre since its start in 1992.
Download the Program HERE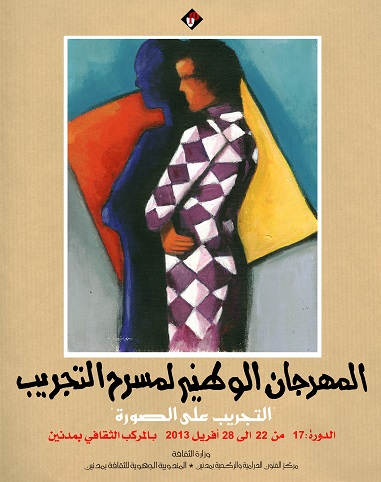 News of the centre

The latest activities of the Centre
More »
New cultural season 2014-2015

Openning of the new cultural season 2014-2015
More »
Announcement

early entries to submit projects
More »